Whether you are looking for a delicious yet easy recipe for your Easter Sunday lunch or you have much bigger summer entertaining plans, then this is the read for you.  We chatted with Nic of local company Leon Catering to learn a little more about Leon, the venues they work with, tips for your own summer entertaining at home, a Winner Winner, Chicken Dinner recipe and some brilliant funny stories along the way.
Thanks for chatting with us Nic…we know of you from some events we have attended at the glorious Chenies Manor and we know you cater lots of weddings and special events in and around the country, but who are you and how did Leon come about?
Leon Catering started 19 years ago, when my 1st daughter was born – she was born 1 pound 4 ounces at Luton and Dunstable Hospital.  All our efforts went into looking after her and when she started getting well (she is now studying History at Royal Holloway), I started Leon Catering.
Leon is based in Watford so do you live there and are your staff mostly local too, how have they coped?
One of Leon Catering Directors lives in Watford.  I live in Bovingdon where our kitchens were for over 15 years.  Most of our waiting staff are pooled from three local school – Hemel Hempstead, Chesham Grammar and Clement Danes.  We have 40 staff on furlough and all of them can't wait for the summer to get back to work.
How has it been in the past year with the closing of the events and wedding industry.  Have you found other ways to work or has it been a complete shutdown for you?
We have not worked during lockdown and all our staff have been furloughed.  During that time I personally have created Community Renewables a recycling collection service for the items the council doesn't collect such as batteries, ink cartridges, mobile phones.
Community Renewables is intriguing!  As a business we are always struggling with how to deal with these items…we will be in touch!
A quick look through your social media shows the beautiful events you have worked on.  Where are your favourite venues in our area and do you have tentative bookings in the hope we will open up properly on June the 21st?
Chenies Manor is my favourite venue in the area.  Other lovely venues are Gaddesdon Estate and North Mymms Park.  Bookings have started flooding in for this summer we will be busy in July, August and September.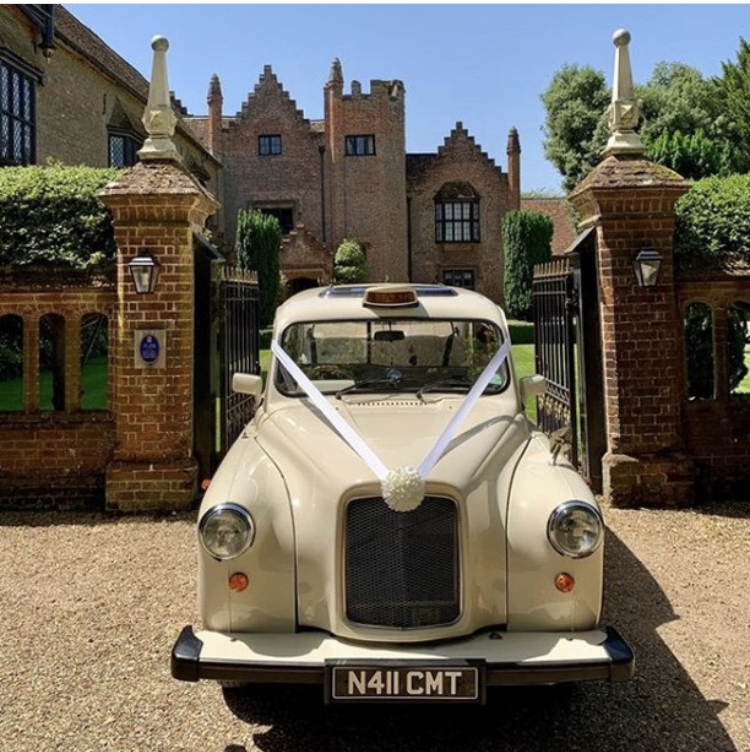 That is terrific news!  We are so hoping this summer will be one huge social whirl and all the hospitality industry will be able to recoup some of what they lost through the pandemic.
Tell us a funny story from your catering archives…
I once catered a Greek wedding when after the money dance, the couple had raised over £10,000 in £50 notes, the Groom stood up and announced he was leaving with the holdall as his new wife had been having an affair with his best man.
That is hilarious – straight out of a film set!
At Chenies Manor, we were asked to create a 7 tiered pavlova wedding cake – unfortunately, their dog likes meringue and pinched the bottom tier, so it became a 6 tier wedding cake.
Definitely in the Dog House after that one!
I have served a huge selection of famous people from the Queen, Prince Charles, Theresa May, John Major, Mick Jagger, Prince, David Beckham, Johnny Wilkinson, Stephen Fry and Michael Ball to name a few.
It's not difficult to imagine the summer ahead will be one full of parties and events and hopefully weddings for you again too.  What 'Top Tips for entertaining like the Professional's can you give us to ensure we are the hosts with the most this summer?
You need to be organised.  All the food needs to be prepared the day before, so design a menu where you can do that.  Ensure you have enough glasses, drinks, crockery and cutlery.  Ensure your guests know what they are coming for.  Enjoy yourself!
Your small event packages look fantastic, a BBQ package looks like it's a definite for our entertaining plans soon – tell us a bit about how they work?  How much notice do we need to give, how small /big an event can you cater for, do you deliver and does the food need much skill to finish off at home?
Thank you, one of our chefs will come to you and cook from our bbq menu – please look at the website for the menu.  We need to know by the Monday of each week the menus and numbers to be catered for.  The most Leon Catering has catered for is 500 and the most I have catered for is 5000 people.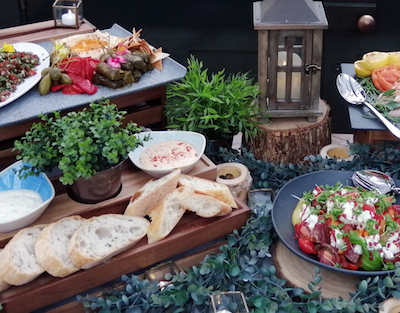 Now a few fun questions about how you Home…
What is your earliest memory of HOME?
Dropping my brother down the stairs when he was 6 months.
What meal makes you feel especially at Home?
Sunday roast, spaghetti bolognaise and chilli con carne 
What do you most appreciate about your Home?
My family, we have 4 daughters
What one thing would you change about your Home and why?
My family, we have 4 daughters
 Does anywhere else feel like home and why?
No, France is where we go on holiday and we love the French way of life but home is home.
Thanks so much for chatting with us Nic and we wish you the busiest most successful summer for Leon and all your staff.
To finish up you've also given us a wonderfully scrumptious recipe to share and it would make a terrific alternative Easter Sunday lunch if lamb is not your favourite.  I have to shout about how delicious this recipe is.  The chicken is so tender and full of flavour from the cider.  We have cooked this three times at home already.  Plus, it smells so good that I keep forgetting to take a photo before everyone tucks in. One day I will get an Instagram worthy photo of it but for now I highly recommend this dish with either roast potatoes or mash and greens for the cooler nights or with fries or new potatoes and salad for our warmer spring evenings. 
It's a definite winner winner, chicken dinner!