During the craziness of 2020 like many people we found ourselves searching out local companies to buy from in order to support our wider community.  Imagine our delight to find a local family run company that also produced such exquisite items for the home!
It was an easy alignment for us and we have continued to use Molecule on an increasing basis ever since.  Sarah's products are beautifully created, sustainably packaged and smell wonderful.
We chatted with Sarah about Molecule and how it evolved and also put some questions to Sarah about home fragrances and how best to use them in your home. 
Sarah, you run Molecule from home which is an idyllic sounding family Farmhouse and workshop in Sarratt!  How wonderful that seems.  Tell us how you have managed during the past year of lockdown combining the making of your products, the running of the business and all the joys of home schooling in your picturesque Farmhouse?
Molecule is my lockdown baby! Although I've made candles for myself for a few years now, Molecule was only launched in April 2020 in a bid to keep myself and my 12 year old daughter amused in the first lockdown. We began by making rainbow themed candles from the kitchen worktop for the NHS charity, which were really popular.  I started to have requests for alternative fragrance choices and ones that weren't rainbow inspired and it just grew from there - by then I had taken over the utility room and pantry with wax, oils and candle jars!  By July I had a range of 6 scents, had started converting the basement into a workshop and was building a website, which I launched on the August bank holiday.  So it grew organically which I think is sometimes the best way, as there's no major pressure or timescales.  It's allowed me to build a business around my family, nip into my basement workshop in between helping the children with school work and keeping on top of household chores - though my Apple watch tells me I climb 30-40 flights of stairs a day! I won't lie, it's been hard work, particularly with Christmas orders, but I'm so happy I had this opportunity.  And I'm so grateful to live in this beautiful village, the community is wonderful and we have the most incredible walks right on our doorstep which has kept us all sane!


30-40 flights a day!  No need for a Peloton in your house!  Have things changed in your home due to the pandemic and the running of the business and will these be permanent changes?
Our home life has changed 100%. My husband gave up his London office and now works from home full time, this has been a god send as he can help with the kids, walking the dogs and is great with a hoover! Before lockdown I worked part-time as a PA in Hatfield as well as running a small semi-permanent makeup business from home.  Both of these stopped dead last March and I'm still furloughed.  My previous business wasn't able to reopen due to Covid restrictions and was run from my basement - there's no space for that now!  One of the biggest and best changes has been having my 19 year old daughter home full time.  She is a social bunny so her world has been turned upside down.  She works for a travel company call centre but since April last year has been permanently based in our lounge with a computer and head set!  It's been lovely having her here for simple things like dinner every night and her relationship with the younger children has grown massively.  
Your house has had to expand!  Add in a little melted wax and that sounds interesting!  What do you most appreciate about it?
Our home is a beautiful old Victorian farmhouse which we rent.  It's part of a large farm here in Sarratt with small businesses based in the farm buildings next to us.  We're surrounded by trees and countryside and I can honestly say that has been our biggest saviour during lockdown.  The ability to get out into the fresh air and walk has had immeasurable benefits.  We only moved here from Chesham last February.  We had no intentions of all working from home, but thankfully the move and the way the house is configured has allowed us to do that - and just at the right time, we couldn't have planned it better!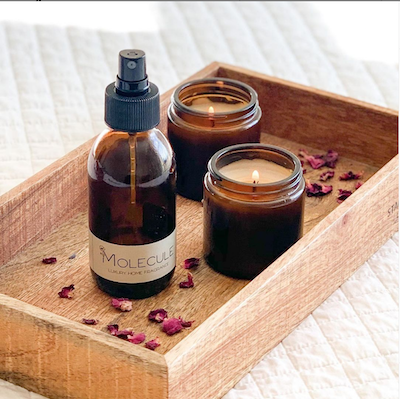 What timing!  That sounds like a busy home though – where do you get to relax?
With 6 of us under one roof and all being home full time, there's not much personal space!  My workshop basement is "my" space.  I can shut the door, put on an Audiobook and spend hours down there!
What's your earliest memory of home?
I grew up in Felden, near Hemel Hempstead and then moved to a farm in Bovingdon when I was a teenager.  I'm part of a large family myself, so most of my childhood memories have been playing in the gardens or fields with my siblings.  I was telling my kids the other day about how we used to go off on our bikes for hours as a 10 year old.  They were shocked that we were allowed and think the "olden days" were very different - it makes me feel very old!
Ah so you are from quite nearby all your life.  Funny about your kids – makes you realise your parents didn't feel old even though you thought they were ancient too!  The Does anywhere else feel like home?
North Norfolk is our second home - we stay with friends up there or rent self catering cottages and escape as much as we can.  The massive and incredibly beautiful open beaches are perfect for blowing away any cobwebs.  It's where we go to to just stop and breathe :-)

So where is the first place you can't wait to go when lockdown is over?
The local pub - where else! Norfolk second :-)
See you at the pub!  Now to get your advice on home fragrance and how best to use it.  For starters where do you suggest placing candles for the best fragrance flow through your home?
For me, candles are the most luxurious product in home fragrance and one you would use as a self-indulgent treat.  They are perfect for creating a mood in a particular space.  I love to walk into a room and be hit by a fragrance that instantly provokes a memory or emotion.  Recently I have been lighting "After Drinks in the Library" in our home office, which is also used currently for home schooling!  It contains sandalwood which is perfect for managing anxiety and helping promote mental clarity, and amber which is very calming.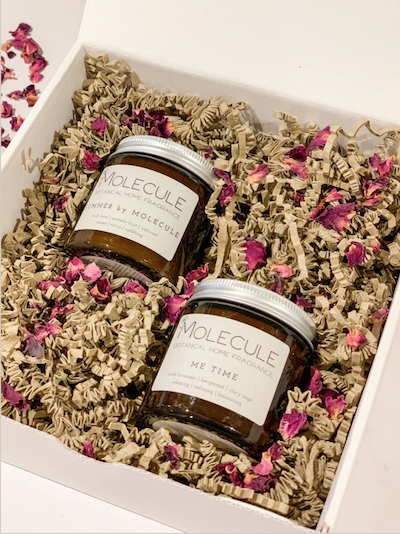 How do reed diffusers differ to a candle in the fragrance they emit in your home? 
Reed diffusers shouldn't overpower, more create a subtle background fragrance that moves around the room with the natural flow of air created by body movement.  Placed at waist height in a warm part of a room or by an entrance, the fragrance will waft gently throughout the space as you move within your home.  Place different fragrances in different rooms to create scent moods for that particular space.  For a quicker burst of fragrance, wax melts are a much more cost effective way of pushing a fragrance around your home.  This is perfect if you want to hide or cover up smells!  On a weekend morning, I like to throw open the windows and heat a "Scents of a Saigon" wax melt.  The eucalyptus and citrus in it are great for banishing germs and masking cooking or doggy smells!
 Should I cut the wick on my candle each time I light it?
Definitely!  Always trim your wick prior to re-lighting your candle.  You can use a wick trimmer (available on our website), nail clippers or kitchen scissors, just keep it trimmed to 5mm.  This will stop your flame burning too tall which can be dangerous, but also stop your wick burning too quickly which will overheat the wax and shorten the lift of your candle.  Also gently straighten a curling wick when it is extinguished but still warm, helping the wax to melt evenly on all sides.  Taking care of your candle and wick will prolong it's burn life, giving you the maximum benefit to the last drop!
 How often should I swap the reeds on my diffuser?
Most reeds will last 12-16 weeks, depending on the fragrance as some oils are denser, so the reeds eventually clog and cannot take on any more oil.  So if you're buying a refill for your diffuser, we recommend also replacing with fresh reeds to make the most of the fragrance.  As a general rule, we like to recommend flipping your reeds one a week, or when you require a fresh burst of fragrance.
 How many candles, diffusers, melts should I have going at one time – is there a limit and should they all be the same fragrance 
I don't think there should ever be a limit!  Stronger fragrances can be overpowering if you light them in every room, but you soon get to know which of your candles are strong and which ones are more subtle.  It's lovely to have different scent zones is different spaces.
What scent do you suggest for Viewings when selling or letting your home?
Fragrance is very subjective and, as with taste of food, people can smell a particular scent differently.  When your home is opened for viewings, you don't want to offend anyone with a particular fragrance that you may love, but they may loathe!  We all know that smell is emotional, it can transport your mind back to a particular memory in your life.  So choose a fragrance for your home that is subtle and uplifting.  Something that will remind of happy and comforting times.  For this I would personally choose "In An English Country Garden" or "Aperitif on a Provencal Terrace".  Both have fresh spring like qualities without being an overbearing floral fragrance.  We have also just released "Sundaes on Sunny Days", which would give that freshly baked vanilla/caramel dessert smell that so many like to infuse through their home for viewings!
And you have a Chris Moyles candle!  How did that come about?
Chris is a friend of a friend and casually as a joke he discussed having his own candle created… We made him one and it just grew from there, it sells out almost immediately!
We've tried the Chris Moyles candle and it's a treat – we particularly like the wooden wick that crackles!  Nice touch.
Thank you Sarah…what a wonderful success you have made of a crazy year!  We love your products and we cannot wait to visit and see your brilliant Lockdown baby in action when this is all over but until then we will continue with our ever growing Molecule collection of gorgeous home fragrances and more collaborations hopefully!
Don't forget to enter the Giveaway on our Instagram page to win a gorgeous Starter Wax melt set and start your Molecule collection supporting a local business and making your home smell delicious.