We've rounded up a few of the local businesses offering Valentines' Gifts, Takeaways, Deliveries and Cook at Home menus.
And for everyone Dining in at Home this year – join us in our #ValentinesDayAtHome fun.  The four of us in our home have decided we are going to dress up, style up our dining table and make it a big event. 
Don't delay as some, like the Kitchen Croxley, have a deadline of today for pre ordering.
In no particular order....
SWEET TREATS AND GRAZING BOXES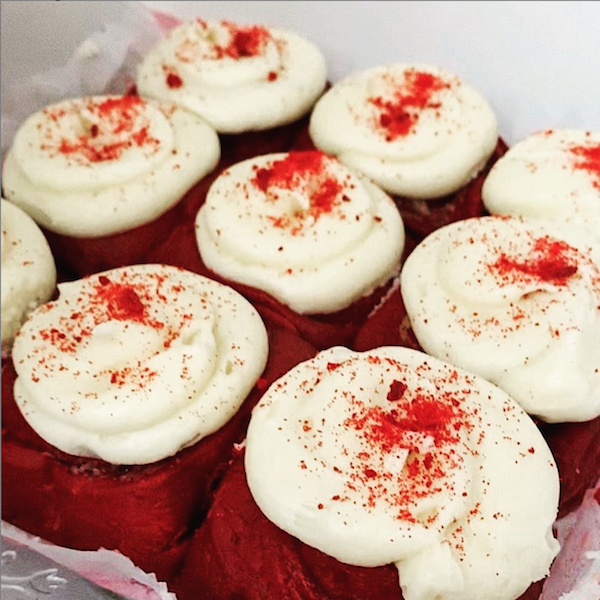 Cinnamon Square – the irresistible box of red velvet buns £20.50 - order 2 days in advance for a Fri or Sat collection via their website.
Creams Rickmansworth have a Red Velvet Hugs cookie dough and a Red Velvet kisses milkshake specially for Valentines.
Gather by Gray - The Brie Heart grazing box £35 or the regular Cheese grazing box £30 order by This email address is being protected from spambots. You need JavaScript enabled to view it. for delivery Sat & Sun
The Woodoaks Teashack have three options their Lovers' Chocolate Graze Board £30 for two, a Valentine's afternoon tea £20 pp and their 'Gal'entine's Treat Bag £10 – book via their website 
The Kitchen Croxley are doing a Valentine's Day treat box that can be posted anywhere in the UK or collected from their shop or their Valentine's afternoon Tea.  TODAY is their last day for ordering though so get in quick via their website or call 01923 805 896
Nonnas Supper Club are doing Valentine's Day Hampers available for collection from Tring Market on the 13th Feb – see their website 
Brown Box Bakes for Valentines' grazing boxes order via their website
MEALS
The Coach & Horses Rickmansworth is doing a three course cook at home Valentine's Day box for two including a cocktail and Prosecco £65 and it can be collected or home delivered.  Pre order via their website 
Dolce Caffe offer a three course meal delivered to your home with a choice of three starters, mains and desserts £40 pp via their website 
The Funky Elephant have glorious specials such as Glazed Jerk Salmon rice pot and Rum & Coke BBQ wings - order by email This email address is being protected from spambots. You need JavaScript enabled to view it.  or This email address is being protected from spambots. You need JavaScript enabled to view it. or by phone 07766073676
I Eat Italian is a relatively new local Italian food delivery service and their Valentine's day menu includes savoury profiteroles, Risotto alle Fragole and Marsala chicken escalopes £43 for two order via their website 
The Cafe in the Park – Date Night in a box!  A 5 course vegetarian feast with a bottle of bubbles delivered for you to finish heating at home £35pp book early by email This email address is being protected from spambots. You need JavaScript enabled to view it.
Weirdough Pizza might be making heart shaped pizzas!  Phone to order a home delivery on 07780 867 056
DRINKS
Hudson Place have Cocktails, mezze boxes and handmade sweet treats and love potions delivered free within 2 miles.  Order via email This email address is being protected from spambots. You need JavaScript enabled to view it. or phone 01923 587 599
See gifts below....
LOCAL GIFT IDEAS
The Block Fashion can offer anything from their window on a click and collect basis and gift vouchers which are always a good idea, trust me!
Molecule Home Fragrance have gorgeous fragrant Valentines' gift sets, see their website 
Valentines Earrings by Millie Miggins
A Wishful Drinking and Anchor Tap & Bottle purchase will equal many a happy partner!
Phenomemum have gorgeous pink 'love' sweatshirts and Dadmin have brilliant Dads' Tees
Please let us know if we have missed a business out!
HAPPY VALENTINES' DAY AT HOME!