Did you know we have a glorious 1857 Windmill right here in Croxley Green? In Windmill Drive of course and we have been watching the progress for a while.  We recently chatted with Will about his plans and the fun he has been having sensitively restoring and converting this piece of history into a family home.
Hi Will - thanks for taking the time to answer all our many questions!  It's an amazing building to own - when did you first learn about the Windmill?
I first came across the Windmill whilst searching for potential properties on @rightmove. I noticed that it had been up for sale for a while and it sparked my interest for many reasons, but it's individuality and large garden of about 0.5 acres were the main ones. My initial thoughts were firstly around finding out what issues it had, as it had been on the market for quite a while, and secondly I felt I had to go and see this amazing building in person. It is a rare find!
What have you found out about its history?
The Windmill Tower was built in 1857, it had various Millers over the years. The sails blew off in a storm around 1900 and it was converted to steam power from its own well (which is still here and about 150ft deep). It was used as a pigeon loft and a siren post during the 2nd world war, before Peter Cole the previous owner acquired it. He converted the tower and built the current 1960's extension and lived in it for 40+ years. There is a very good historic account of the Windmill on the Croxley Green History project website with articles written about the Windmill from other sources. I have got myself a big pile of books with references to the Croxley Windmill and photos of the Windmill over the years, which makes for lots of interesting reading.
Lots of reading material for Lockdown hours there then.  How long did it take to purchase the Windmill, was it tricky?  
I first visited the Windmill in March 2019, and I was lucky to be in a good position, as my property in Valley Road was under offer so could move quickly. I moved into The Windmill in mid July 2019. My buyer had no chain and the Windmill was probate which added to the speed of the process. This purchase was the quickest non auction property I have had from offer to completion. The Windmill received a lot of national press coverage whilst it was up for sale, but I felt the original price was too high vs the amount of risk you were taking on with a listed structure this old. It was so overgrown it was difficult to see exactly what you were dealing with, plus mortgages are hard to secure on unmaintained listed buildings.
What sort of state was it in when you purchased it, we've seen some of the internal images and looks a little dated! 
The Windmill was in very bad shape, it was missing some glass windows, had rotten doors, the heating had not been turned on for 3 years, the external timber balcony was hanging off and rotten, lots of brickwork was missing in various locations and a small tree was growing out of the side of the Windmill. You could say the house is stuck in a 1960's time warp, there is cork wall paper, polystyrene ceiling tiles and pine cladding to name just a few of the dated interior features.
The tree sprouting out the side sounds like a set for a Harry Potter!   Any caveats or complications imposed on developing it? 
No caveats. The biggest complications thus far have been the planning process and working within the parameters of the Conservation Officers' guidance. The Windmill is grade 2 listed so a whole manner of things have to be considered. We had to draw up three different designs before the scheme that was finally approved unanimously by the planning committee before Christmas. The Three Rivers planners were really helpful throughout the whole process. If you have the heritage asset at the centre of your plans, and use sympathetic materials and construction techniques, you are off to a good start.
Must be amazing to have your plans approved recently!  What does this mean for your diary and works? 
We have submitted pre start conditions to planning, so works will start in late Feb on site. We are currently getting on with repair works to the Windmill Tower itself. These were approved under a separate planning application. Almost everything you do to a listed building requires permission, apart from some decorations and fitting a new bathroom / kitchen etc. but there are exceptions.
Not a normal year to be attempting all this - how has the pandemic affected you?
Undoubtedly the toughest part of the project during the pandemic has been the planning so far. Local planners have not been able to visit the site and trying to convey an issue in just drawings and words can be hard.  All the trades people have been great and keen to work. We have socially distanced working methods in place and currently all the works are outdoors which helps.
I'm sure trades people are delighted to get a chance to work on something so unusual.  What is your ultimate vision for the Windmill? 
The vision is to build myself a family home, that in turn enables the Windmill to be preserved for another 150 years. Needs and requirements change over time and listed buildings need to adapt with this whilst retaining their history and fabric. We are reinstating a couple of historic elements that have disappeared from the Windmill. These include its cap, which used to be shaped like an upturned boat. We are also putting back the timber balcony around the tower which was previously used to service the windmill sails. Putting these features back serves to highlight the towers historical purpose when it was originally built.
There are 350 listed buildings within Three Rivers Council but windmills are getting fewer and fewer in the UK, and only 7 remain standing in Hertfordshire. Whilst the Windmill is a private family home, we still plan to hold an open day each year for national Windmill weekend 9/10th May and invite a local primary school class to visit and learn about the history of the Windmill and its construction, all subject to COVID restrictions, however long they may remain.
Fingers crossed for Windmill Weekend 2021 then - locals will love a chance to see your Windmill.
Tell us about the findings you have made clearing the Windmill? 
So far we have found lots of interesting things, including 150 year old books in the loft and original property deeds dating back to before the Windmill was actually built, hand written in ink and quill. We are going to go magnet fishing in the well to see what we find (when the weather warms up!) We have the original Mill stones, they have been buried as stepping stones in the garden, so they are going to be saved and used in the garden.
Unfortunately none of the inner workings of the Windmill remain. All that's left is the large structural timber beams which are being retained. The biggest beam holding up the Windmill is 400mm square, the rough thickness of a microwave. If you wanted to buy a new beam now to match, it would be around £1000 without fitting.
We used your Windmill in Homeschooling yesterday and had the kids work out the perimeter of the thickness of your biggest beam and they were astounded to imagine something so huge in a home!
What do tomato ketchup and the Windmill have in common?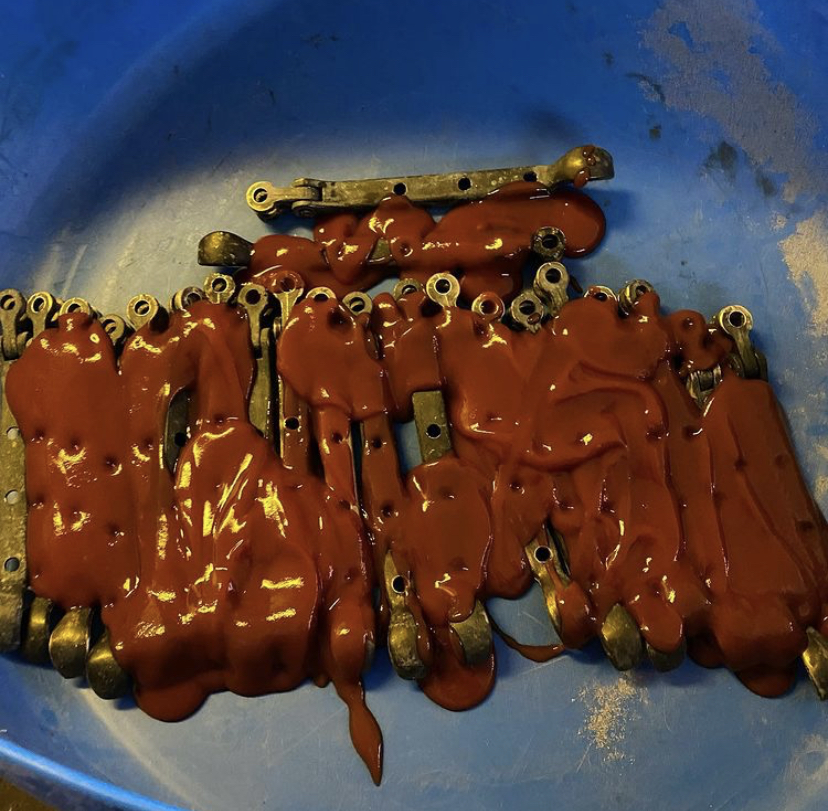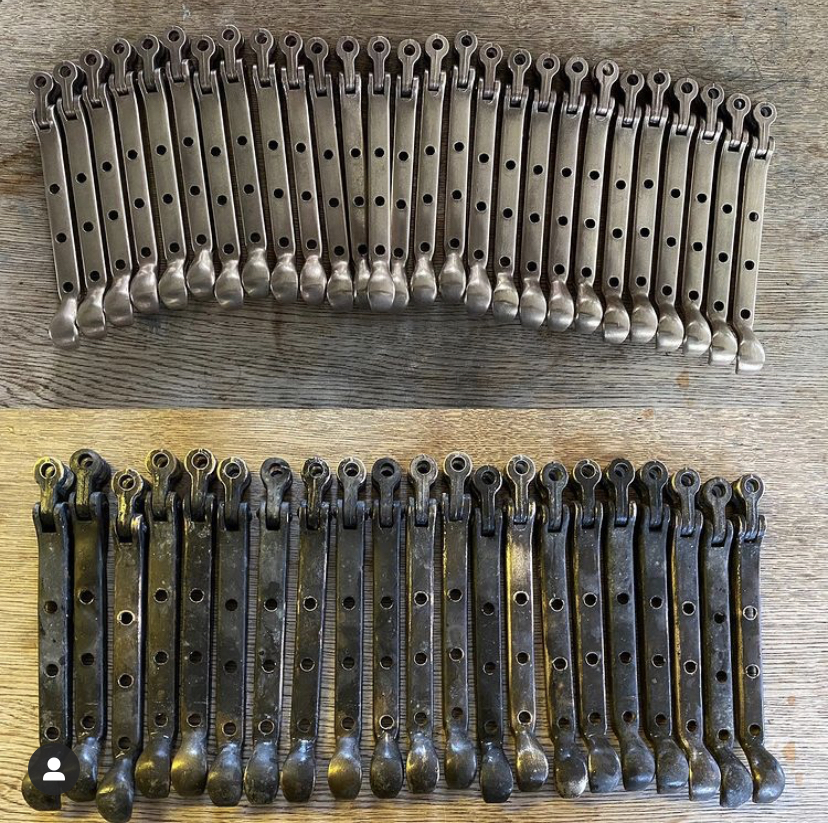 It turns out that Tomato ketchup is a great brass restorer! The Crittall Window handles are solid brass and were caked black with lots of years of dirt. We used ketchup to clean them up as part of the refurbishment process on the original windows.
Ketchup - who knew!  Might not share that in homeschooling today though.
Who is doing the work on the property for you?
We try as best we can to source local materials and trades people. Some of the work is specialist so requires us to look a bit further a field. We have engaged a heritage interior designer that specialises in Listed and older buildings to get the details on finish and layout right. Having a fine balance between the new and the old is key, and expert help is a must.
We are always on the look out for new technology and are currently considering a new product for the extension superstructure. It's called @Gablockuk, and its an insulated timber block system that's like giant Lego and is extremely quick to build with. https://www.gablokuk.co.uk
We've seen use of products like @gablokuk increase significantly in the past few years.  The speed and eco credentials being the biggest reasons.
Anything you would do differently with hindsight?
I would have done more research with regards to listed planning. It's a bit of a mine field at times and takes much longer to gain approval. With a Pre Application it took 1 year to gain approval from start to finish, plus you have to go into a lot more detail up front.
I have joined the Listed Property Owners club (https://www.lpoc.co.uk) and SAPB (https://www.spab.org.uk), both are great sources of help and information when you are buying your first listed property or living in one. Insurance is also a tricky topic. Listed property owners club have their own insurance department to help. Cover on a listed building is generally more expensive than a similar size house and also comes with more conditions attached, especially if you have flat or thatched roofs. 
Tell us more about Privity Property – we understand you have plans for some other iconic buildings around the country?
I started Privity 2 years ago following 20 years working in the Construction Industry as a Quantity Surveyor. I have worked since I was a teenager and always wanted to own my own company. My first ever project as a QS was the refurbishment and extension of the Grove hotel (5mins drive from the Windmill). Little did I know 20 years later I would be living just around the corner. Privity allows me to impart my passion for construction and also give something back to the next generation, by renovating buildings to last, in as eco friendly a way as you can. Our focus is on derelict buildings and how we can bring them back into use in some way. We have a couple of other projects in the early stages, a derelict church in Penzance and a former Welsh mining power house in South Wales with links to Winston Churchill. Both have holes in their roofs but are a joy to look at. Knowing you are going to bring them back to life is so fulfilling. All our projects are grade 2 listed buildings and learning from the Windmill has enabled us to invest in these buildings safely.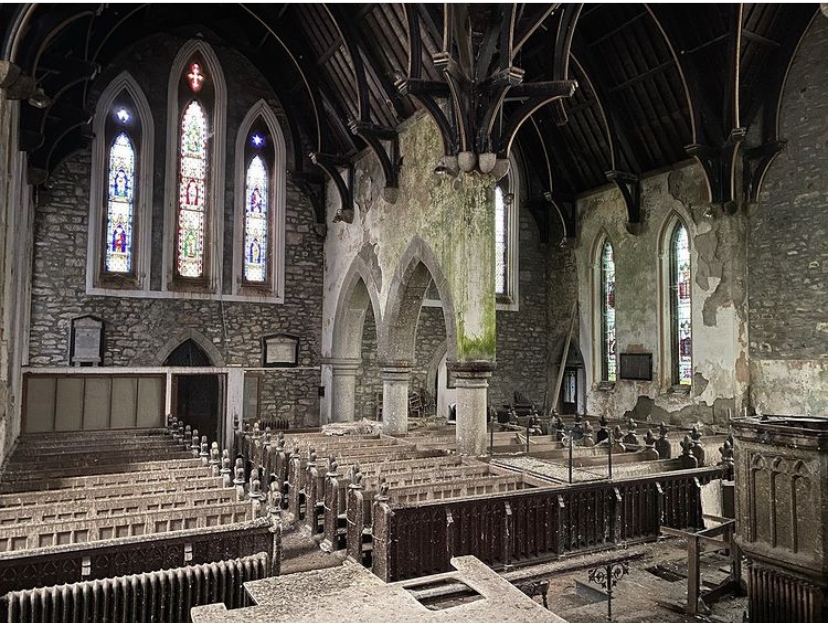 Some fascinating projects and we welcome the eco approach.  The Windmill project is one we are delighted to watch locally and it's good to know Hertfordshire will be getting to keep this Windmill for generations to come.  Good luck with it all and we will come back for progress reports along your Windmill journey.
Looking forward to a safe National Windmill Day some year soon too!